QVI FlexPoint Large Format Multisensor Systems
QVI
®
FlexPoint™ is the new generation of large format multisensor coordinate measuring systems. FlexPoint systems offer a unique blend of precision, flexibility, and speed, to solve a wide variety of dimensional measurement problems for large format parts.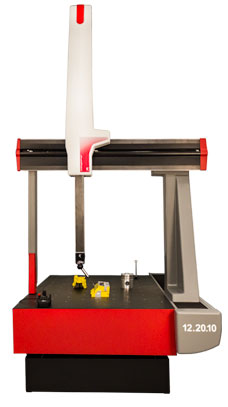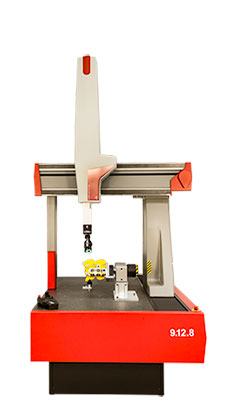 .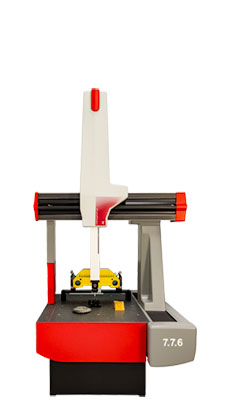 | | | |
| --- | --- | --- |
| FlexPoint 12.20.10 | FlexPoint 9.12.8 | FlexPoint 7.7.6 |




The Multisensor Advantage

FlexPoint systems are true multisensor systems, supporting a range of tactile and non-contact sensors including TP20/TP200, SP25, point and line scan lasers, white light sensors, and a unique QVI video sensor, all powered by QVI ZONE3
®
3D CAD based metrology software.
The VersaFlex™ multisensor head offers up to three simultaneously available sensors on an articulating probe head. With several sensors simultaneously available, there is no down time while individual sensors are exchanged from a change rack, and no need to recalibrate each time a sensor is used.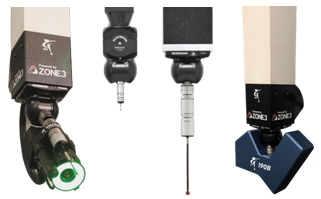 Powerful ZONE3 Software

QVI ZONE3 3D CAD based metrology software provides complete flexibility for multisensor measurements – with or without a CAD model. An entirely graphical user interface, visual validation for every step, and graphical reporting make ZONE3 the easiest and most intuitive 3D metrology software available.

Sensor Options

FlexPoint systems are designed as true multisensor systems, offering the widest range of sensors of any production CMM system.

TP20, TP200 and SP25 contact and scanning sensors

Video

TeleStar Probe

Rainbow Probe

VersaFlex Multisensor Cluster
QVI Optical Video Probe
– The FlexPoint video probe provides completely non-contact measurement of complex parts using a unique QVI designed lens system and high resolution camera with integral illuminator. This assembly combines QVI's long experience in precision optics and imaging in a compact and powerful sensor assembly for use on an articulating probe head.


QVI TeleStar Probe
– The TeleStar Probe is a high resolution interferometric laser sensor with a small spot size for point or surface scanning.




Design Advantages

FlexPoint systems have their roots in design concepts developed by Itaca Metrology Solutions. The design team consists of many decades of CMM, sensor and software design experience, having produced revolutionary designs in both tactile and non-contact metrology systems.
FlexPoint systems feature a stable transport design with carefully selected materials, rigid body members, air bearings on all axes, and active temperature compensation, to perform in shop floor environments. Unique and patented design features enable a larger measuring volume within a compact footprint.

The base units of all FlexPoint floor models are made of massive granite members for thermal stability, load carrying capacity and vibration isolation.

All moving members are made from cast aluminum or extruded aluminum structures designed specifically to provide rigid body behavior for a wide range of sensor configurations and high speed motion.

A wide bearing stance and air-bearings ensure motion stability for accurate positioning of all axes.
FlexPoint model designations reflect the true measuring range of the system, not simply the axis travel. Unique design features allow FlexPoint systems to offer greater measuring range for their size. An asymmetric X-axis bearing arrangement allows the carriage close proximity to the drive-side upright. The upright itself features a cast-in pocket in drive post which allows the probe head clearance to probe from within the pocket area. The outboard leg is offset from the quill, allowing maximum measuring range on the off-side. All these features are intended to provide the maximum measuring range within a compact footprint.
Built-in thermal compensation
Instrumentation on axes and the part under inspection feed data to a thermal compensation system which adjusts lead factors, ensuring high accuracy even in conditions with thermal variation.
Precise Calibration

Factory volumetric calibration using the Etalon
®
Trac-Cal laser system reduces measurement uncertainty. In the field, machine accuracy verification is performed according to ISO 10360-2:2009.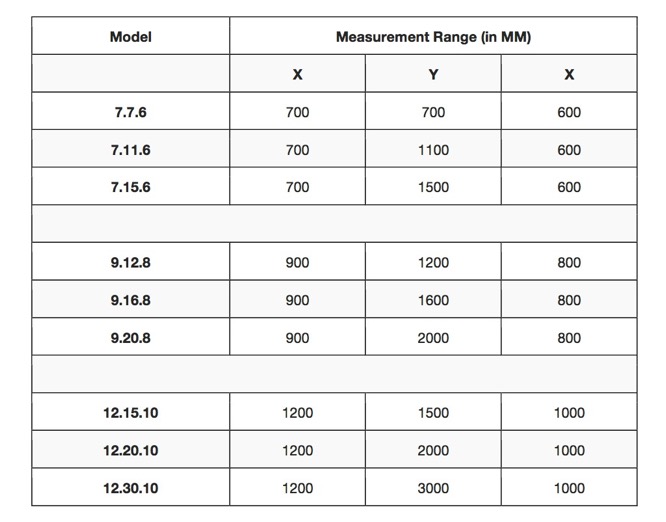 Increase your machine's performance with the right fixtures